The encyclopedia of the Japanese Tokusatsu franchise "Super Sentai", that features the five-band team member who are tasked to protect the planet Earth, and it was created by Toei Company.
If you're interested in helping contribute to this Wiki, check out the Super Sentai Wiki Projects page.
The Ultraman Wiki can be accessed via
WWW.SUPER-SENTAI.WIKIA.COM
Contact an Admin:
Admin Noticeboard | RedSentai2009
Welcome
In every Super Sentai Series, the protagonists are a team of people who – using wrist-worn or hand-held devices – transform into superheroes and gain superpowers – color-coded uniforms, signature weapons, sidearms, and fighting skills – to battle a group of evil beings that threaten to take over the Earth. In a typical episode, the heroes thwart the enemies' plans and defeat an army of enemy soldiers and the monster of the week before an enlarged version of the monster confronts them, only to be defeated again when the heroes fight it with their mecha. Each Super Sentai Series is set in its own fictional universe; various TV, video and film specials feature a team-up between one or more teams.
The series was created by Shotaro Ishinomori, then known for the 1971–1973 Kamen Rider TV series and the long-running manga Cyborg 009. He developed the first two Super Sentai Series Himitsu Sentai Gorenger, which ran from 1975 to 1977, and J.A.K.Q. Dengekitai, released in 1977. Toei Company put the franchise on hiatus in 1978, collaborating with Marvel Comics to produce a live action Spider-Man series, which added giant robots to the concept of tokusatsu shows. The giant robot concept was carried over to Toei and Marvel's next show, Battle Fever J, released in 1979, and was then used throughout the Super Sentai Series.
---
About this wiki | Wiki principles | Wiki Guidelines | New pages | Categories | Wiki tutorial | Forum | Recent Changes | Categories | New Pages | Wanted Pages | Staff | Users | Help pages | Help | Currently editing over 879 articles.


---
Featured Articles
---
Check Out These Other Tokusatsu Wikis As Well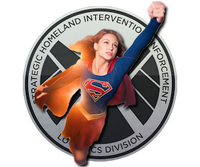 ---
News
What's New about Super Sentai
Community
To write a new article, just enter the article title in the box below.
Not sure where to start?
If you are new to wikis, you may want to read the Help pages.
Adding content
If you want to help but you're not sure where to start, try improving the various stub articles by expanding them.
Another helpful activity would be to check the list of wanted pages for frequently linked-to articles that don't exist yet.
Wiki maintenance
Share your thoughts in the Noticeboard Talk page.
Editorial help correcting or grammar is always appreciated.
Community content is available under
CC-BY-SA
unless otherwise noted.